WARNING!!! NON-CANON!!!
The information in this article comes from The Funnies and is not written by Edgar Rice Burroughs.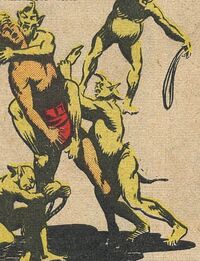 The Horned Men are a diminutive Barsoomian race that live deep within the the forests of Kaol, in a ruined city. They are covered in yellow fur, and have a single horn protruding from their forehead.
Not much is known about their culture, they are lead by their chief Mulk and they worship a volcano god, they perform ritual sacrifices to this god by throwing people into the caldera of an active volcano.
Ad blocker interference detected!
Wikia is a free-to-use site that makes money from advertising. We have a modified experience for viewers using ad blockers

Wikia is not accessible if you've made further modifications. Remove the custom ad blocker rule(s) and the page will load as expected.