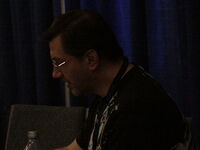 Joe Jusko (born September 1, 1959 in New York) is an american artist known for his fantasy illustrations. He is well known for his work associated with Edgar Rice Burroughs works, including an artbook filled exclusively with his artwork related to Edgar Rice Burroughs. He frequently provides cover work for dynamite comics Warlord Of Mars.
External Links
Edit
Ad blocker interference detected!
Wikia is a free-to-use site that makes money from advertising. We have a modified experience for viewers using ad blockers

Wikia is not accessible if you've made further modifications. Remove the custom ad blocker rule(s) and the page will load as expected.