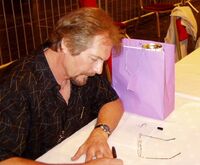 Micheal Whelan (born June 29, 1950) is an American Science Fiction and Fantasy artist. He was inducted into the science fiction hall of fame, the first living artist to have the honor. He is noted here on this website for having done a cover for each of Edgar Rice Burroughs' Martian novels in the late 1970s.
External Links
Edit
Ad blocker interference detected!
Wikia is a free-to-use site that makes money from advertising. We have a modified experience for viewers using ad blockers

Wikia is not accessible if you've made further modifications. Remove the custom ad blocker rule(s) and the page will load as expected.