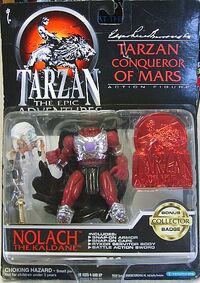 Nolach was one of the "kings" of the kaldanes of Bantoom.
Although Nolach has the fewest mentions in the entirety of The Chessmen of Mars he was the only kaldane to receive an action figure in the "Tarzan Epic Adventures" toyline.
Ad blocker interference detected!
Wikia is a free-to-use site that makes money from advertising. We have a modified experience for viewers using ad blockers

Wikia is not accessible if you've made further modifications. Remove the custom ad blocker rule(s) and the page will load as expected.