WARNING!!! NON-CANON!!!
The information in this article comes from Marvels, warlord of mars and is not written by Edgar Rice Burroughs.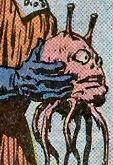 Saar
was a
Kaldane
, and the love of "her" fellow Kaldane
Aard
. When Aard was banished for his emotions the king
Taak
remade Saar, implanting her brain in the body of the
red martian
woman
Vala Dia
so that Saar could be a spy amongst the red peoples, she was also told that her lover Aard was dead.

The implantation process seemed to physically mutate the head of the body into a Kaldane, making the process irreversible, at least for Vala Dia. John Carter slew her and the other human-seeming Kaldanes.
Ad blocker interference detected!
Wikia is a free-to-use site that makes money from advertising. We have a modified experience for viewers using ad blockers

Wikia is not accessible if you've made further modifications. Remove the custom ad blocker rule(s) and the page will load as expected.