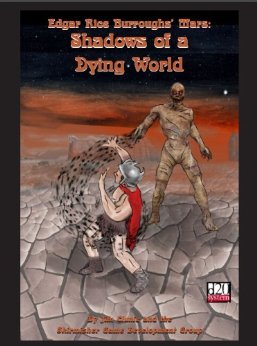 Shadows of a Dying World is a d20 RPG supplement produced by Skirmisher Game Development Group.  Originally published in December of 2007, it allows for Dungeon Masters to bring the world of Barsoom to life for a Dungeons and Dragons 3.0 or 3.5 edition game.
Player Section
Edit
A brief bit on how to adapt for a world where armor is not the norm.
Monster Manual
The bulk of the book is dedicated to 13 Barsoomian monsters, and variants thereof.
Ad blocker interference detected!
Wikia is a free-to-use site that makes money from advertising. We have a modified experience for viewers using ad blockers

Wikia is not accessible if you've made further modifications. Remove the custom ad blocker rule(s) and the page will load as expected.