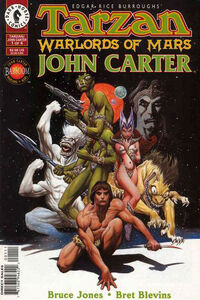 Tarzan/John Carter: Warlords of Mars is a four-part crossover comic between Tarzan and John Carter. It was published by Dark Horse Comics from January 1 to June 1, 1996
The series has not been collected in trade paperback format.
A black and white version of the beginning pages of the first issue was printed in "San Diego Comic Con Comics Issue #4".
External links
Edit
Ad blocker interference detected!
Wikia is a free-to-use site that makes money from advertising. We have a modified experience for viewers using ad blockers

Wikia is not accessible if you've made further modifications. Remove the custom ad blocker rule(s) and the page will load as expected.